The Banoptikon videogame project, is related to the broader E.U. research program MIG@NET (http://www.mignetproject.eu). The program searches and examines different aspects of current migrational politics and the issues that are generated from the power relations between migrants, "locals" and authorities, which are weaving and constructing the European canvas of this new struggle field. The central axis of this struggle concerns the digitalisation process of migration flows and consequently, the transformations that occur to the different actors and the urban territories.
The videogame Banoptikon, aspires to simulate social and political situations referring to migration flow, which take place inside cities, networks, rural areas and above all to human bodies. Because bodies are the subjects on which old and new technologies are applied and therefore bodies remain the basic topos of the battlefield.
We are facing the melting point between bodies in move on one hand and digital technologies of control on the other. A situation where the body becomes data, and thus becomes subject of control, but at the same time the data are materialised and become bodies. As the team of the Border Crossing state:
"So, precisely because the migrants carry the border, because they embody the border - especially in the form of their fingers - they cannot entirely cross it. However, what they do is to transgress the border at the same time as incorporating it."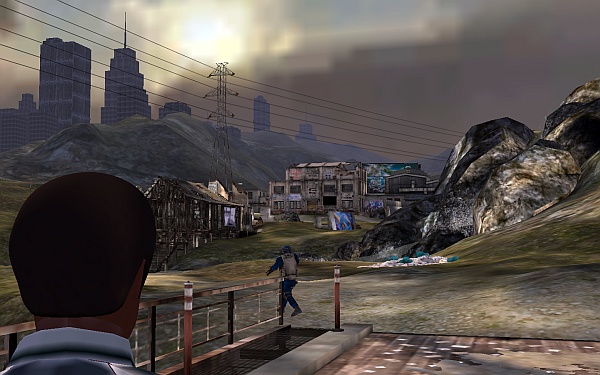 Instructions: Use the mouse for everything (left-click -> move around, right-click -> zoom or view additional text and links in card form). You may use keyboard arrows for walking, spacebar for jumping and alt for zoom or card view. TAB changes into fullscreen view. ESC at any time reveals a menu with OPTIONS related to game quality and hardware performance.
Minimum Hardware Requirements: Mac or Windows computer with fast dual CPU, 2Gb memory and modern graphics card. Firefox or Chrome or Safari or any modern browser supporting Unity Web player plugin.
Suggested Hardware Requirements: Any Mac or Windows computer with i5 or i7 or faster CPU, more than 4Gb memory and Nvidia or ATI fast graphics cards with fast graphics memory
Use the OPTIONS menu after pressing ESC to tailor performance to your specific hardware.